Modernization Project
The Modernization for Woodhaven Middle School is highly anticipated and an integral part of Parkland School Division's Strategic Facilities plan to 'right-size' schools in the City of Spruce Grove. Up until the opening of Prescott Learning Centre in 2016, the Division had been operating the same number of schools in Spruce Grove as circa the 1980s, when the city population was a mere 7,500 instead of the thirty thousand who call Spruce Grove home today.
Student Capacity
The school, which was originally designed for 450 students in the core (no modulars), will soon be able to accommodate 885 students. At the time of the modernization announcement and at its peak, Woodhaven Middle School was home to over 620 students.
Location
Status of Construction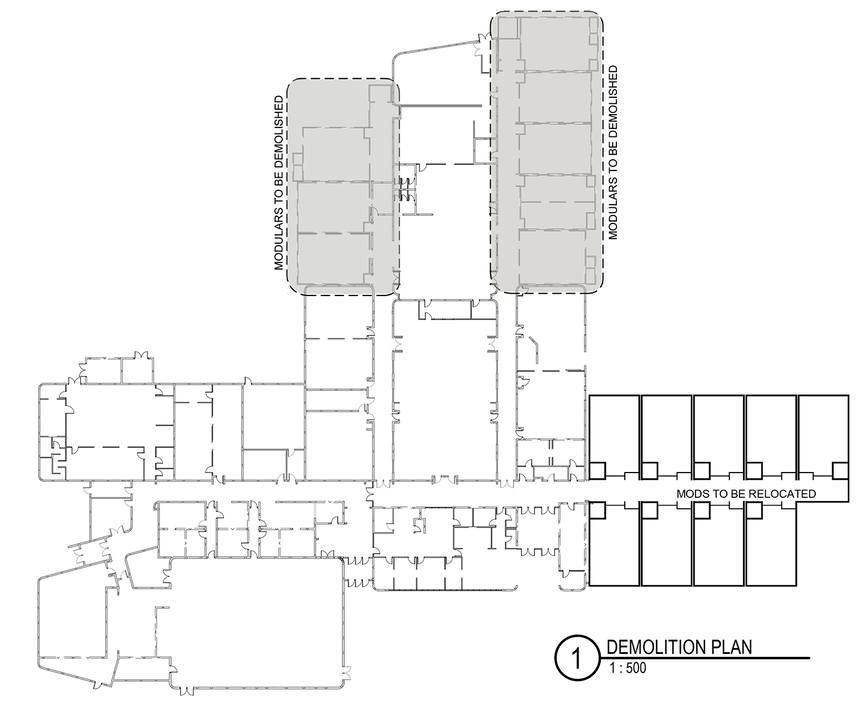 In January 2018, the architectural firm was developing the floor plans for the project.
As of March 2019, the construction service company Stuart Olson was awarded the bid not only to build the school but also to complete the remaining work on Phase One which is the demolition, removal and moving of a number of modular classrooms currently on the site. The three modulars that were on the southwest corner of the school located closest to our running track have been demolished to make room for the relocation of the nine modular classrooms currently on the northeast side of the building closest to the intersection of King Street and Woodhaven Drive.
As in any construction project, delays and changes can and usually do happen, as Phase One was set to be completed by the first day of the 2018-19 school year. The delays in site preparation and the physical moving of the modular classrooms has lead to the decision to renovate those classrooms now rather than later when the new portion of the school is open. Modifications to accommodate students in existing space in the school continue. Thank you to staff and students for their continued patience.
It is anticipated that Phase One work will be complete by the beginning of the 2019-2020 school year.
Phase Two, which consists of the construction of the new areas of the school (approximately an additional 3,000 square metres), is set to begin May 2019.  Alberta Infrastructure predicts increased traffic and limited parking in the area during construction hours.
Alberta Infrastructure has confirmed that the total budget for the expansion and renovation is $23,673,648. The project is expected to take up to three years to complete.
Design and Floor Plan

Architects' Rendering
Modernization Announcement
March 21, 2017 - The Alberta Government plans to invest in 26 school projects to improve access to education and create jobs as part of Budget 2017.
Eight brand new schools, nine replacements of old ones and seven modernizations will address enrolment growth and revitalize older schools while creating thousands of jobs for Albertans. Planning funds have also been earmarked for two additional schools, with construction dollars expected at a later date.
Budget 2017 allocates $500 million for these projects, the first of which will be ready for occupancy in September 2021.
 
Our government is working to make life better for Albertans and part of that is building schools for our growing number of students. We will also protect and improve education by providing a much-needed facelift to some of our aging facilities.
- Premier Rachel Notley
New schools will address enrolment pressures in fast-growing urban areas of Edmonton, Calgary, Airdrie and Lethbridge.
The nine replacement schools are located in Banff, Rivière Qui Barre, Grande Prairie, Irma, Iron Springs, Sherwood Park, Medicine Hat and two sites in Edmonton.
The seven schools to be modernized are located in Drayton Valley, Bonnyville, Grande Prairie, Edmonton, Red Deer, Spruce Grove, and Calgary. Modernizations provide improvements to older facilities such as building envelope upgrades, electrical and mechanical improvements and other functional upgrades to ensure students have access to effective and modern learning environments.
Two projects, the Ellerslie-area school in Edmonton and the Lethbridge elementary, have been approved for design dollars with full construction funding expected later.
These 26 school projects will create more than 6,000 jobs. For almost all of the projects, construction will likely begin in 2018 after design is complete and schools are projected to begin opening in 2021.
Premier Rachel Notley and Education Minister David Eggen joined school trustees and students at Woodhaven Middle School in Spruce Grove to celebrate its planned modernization while Finance Minister Joe Ceci did the same at Forest Lawn High School in Calgary, which is also due for a substantial renovation.
Parkland School Division is extremely excited and most appreciative of the announced modernization of Woodhaven Middle School. This project reflects the government's commitment to capital projects to support the education of Alberta's most valued resource, our children. The modernization of Woodhaven Middle School will certainly benefit our school community with enhanced facilities and with increased capacity in one of the fastest growing cities in the province.
- Eric Cameron, Board Chair, Parkland School Division
We have almost 650 children crammed into an aging building that is actually built to comfortably educate 450 students. We're thrilled about what a modernization of Woodhaven combined with the two new Kindergarten to Grade 9 schools in Spruce Grove will do for our students. Right-sizing schools and classrooms and using areas of our schools for their intended design will help our students achieve our ultimate goal of student success & well-being.
- Tim Monds, Superintendent, Parkland School Division
For more information contact:
Lindsay Harvey
Press Secretary, Alberta Education
Phone: 780-868-4200
Email: lindsay.harvey@gov.ab.ca

Jordi Weidman
Director, Strategic Planning & Communications
Parkland School Division
Email: jweidman@psd70.ab.ca